We have our own farmers market located on the farm. We offer the freshest produce in season along with a large variety of jams, juices, jellies, honey and other jar items.
---
Our Falling Creek market is located between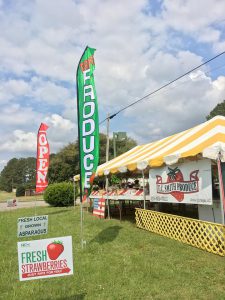 Kinston and La Grange on Hwy. 70. Look for the big yellow and white tent. We offer local homemade ice cream in a variety of flavors as well as a variety of jar items.
---
Come see us at Kinston Farmers Market. We are there on Tuesday and Saturday from 8-2 during the season.  We offer a smaller selection here but it is the same great fresh produce you can purchase at our farm location.
---