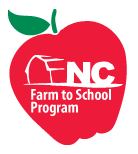 TC Smith Produce Farm, Inc. is proud to be a grower for the NC Farm to School Program.
The NC Farm to School program has been supplying school cafeterias across our state with the freshest, locally grown produce from North Carolina farms since 1997.
For more information about the Farm to School program please visit www.ncfarmtoschool.com.